WELCOME TO SEMINAR!
Welcome to Triad K and to First-Year Seminar!
KNOW YOUR DUMPSTER FIRE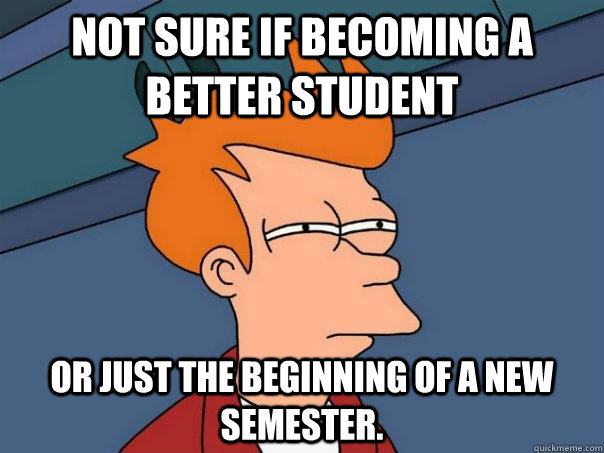 Attendance
Who am I? How did I get here?
---
Important Information
Our wiki page...

Please try to explore it some more because it will be to your benefit to do so! :)
I will try to make this wiki as useful to you as possible.

Islander Email
College Student Things to Know

---
And now it's time for a little activity! Temperament Sorter
Complete the handout.
Make sure your name is on the top.
You'll find out what this all means soon enough.
---
Homework
Tell me a little about yourself!
DUE JANUARY 24, BY 11:59 PM
---
CHALLENGE




Every semester will be a new experience, whether you have the same professors and classmates or not. Embrace the new experience!
---
Announcements/Reminders
FIRST SEMINAR HOMEWORK ASSIGNMENT DUE JANUARY 24, BY 11:59 PM IN BLACKBOARD!!!

Wednesday, January 25 Last day to register or add a class
February 9 - COMM Unit Test 1
February 16 - History Exam 1

(T-minus 28 days and counting!!!)

February 21 - COMM Unit Test 2
February 24 - Historical Argument Thesis and Outline Due
February 28/March 1 - Conferences with your Seminar Professor
March 7 - In-class Midterm Reflection
March 9 - COMM Unit Test 3

March 13-17 - Spring Break

March 19 - Historical Argument Paper Due
March 23 - History Exam 2
March 23, 28, 30, & April 4 - COMM Individual Presentations
Friday, April 7 - Last day to drop a class
April 25, 27, & May 2 - Group Persuasive Presentations
Thursday, April 27 - First-Year Research Conference
Tuesday, May 2 - Last day of classes
May 3 - Final Video Portfolio Due
May 4-10 - Final Examinations
May 8, 11 am - History Exam 3