Welcome back to seminar!
Hello, Kathleen and Kelsey!

Advisors assigned to our Triad for Destination Graduation
---
What is this dumpster fire business?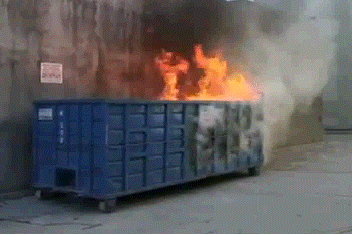 Dumpster fire
a chaotic or disastrously mishandled situation (google.com, 2017)
a complete disaster (urbandictionary.com, 2008)
Here is a Huffington Post article on the beginnings and current usage of the term "dumpster fire".
Some of the years identified by Dr. Costanzo as containing dumpster fires:
Some view the entire year of 2016 as a dumpster fire.
What do you think?
What were some local dumpster fires last semester?
HISTORY IN THE MAKING TONIGHT!
---
Announcements/Reminders
Don't forget your HIST quizzes and discussions!!! (Due every Sunday by 11:59 PM!)
First extra credit opportunity!
Introduce yourself to one of the staff members in Career Services.
Take a selfie at the event.
Insert the picture into a word document.
Write a paragraph about your experience and telling me the name of the staff member you met in the same word document.
Upload this into

BlackBoard

for 20 extra credit points by Friday, February 3, at 5 pm.
This can only replace attendance and participation points.
February 9 - COMM Unit Test 1
February 16 - History Exam 1

(T-minus 16 days and counting!!!)

Second Extra Credit Opportunity: Visit with the Peer Mentors! Ask for a slip for proof of your visit. Have your slips uploaded by the following dates at 11:59 pm.

February 19
March 12
April 9
April 30
| | | | | | |
| --- | --- | --- | --- | --- | --- |
| | Monday | Tuesday | Wednesday | Thursday | Friday |
| Darcie | 10-12 pm, 2-5 pm | 12:30-1:30, 3:30-4:30 | 10-12 pm, 2-5 pm | 12:30-1:30, 3:30-4:30 | 10-12 pm, 3:30-4:30 |
| Ty | 8 am-12 pm | 8 am-12 pm | 9 am-12 pm | 8 am-12 pm | 8 am-12 pm |
February 21 - Seminar will be held in the WRITING CENTER! Also, COMM Unit Test 2
February 24 - Historical Argument Thesis and Outline Due
February 28/March 2 - Conferences with your Seminar Professor
March 7 - In-class Midterm Reflection
March 9 - COMM Unit Test 3

March 13-17 - Spring Break

March 19 - Historical Argument Paper Due
March 23 - History Exam 2
March 23, 28, 30, & April 4 - COMM Individual Presentations
Friday, April 7 - Last day to drop a class
April 25, 27, & May 2 - Group Persuasive Presentations
Thursday, April 27 - First-Year Research Conference
Tuesday, May 2 - Last day of classes
May 3 - Final Video Portfolio Due
May 4-10 - Final Examinations
May 8, 11 am - History Exam 3