Discussion Facilitation # 3: "Race, Place & Obesity"
Our discussion leaders for today are: Rhetoric AF: Nate, Kasey & Connor.
Please make sure to have read the article, and bring your notes.
More on Argument
Turn in your argument outlines. These should be typed and printed, please
Questions about forming your argument?
Let's dissect an argument that uses classical structure: Paul Krugman Op-Ed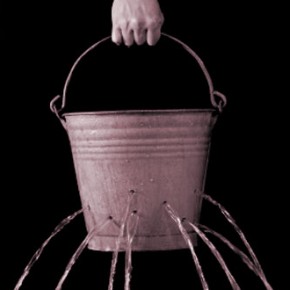 See if your claim "holds water."
Like a bucket with holes, your argument won't "hold water" if it has holes, or faulty logic.
Get into your Writing Groups
Read your main claim to your group mates.
Members of the group should offer arguments against the claim.
See if you can counter, or rebut, these arguments.
Take notes as you go through this exercise. Everyone should "test their claim" with the group.
Based on your group discussion, do you want to adjust your claim, objections, or rebuttals?
Before You Leave - Daily Writing
Add some remarks to today's daily writing about the feedback you received from your claim. Specifically notate the arguments your writing group made against your claim.
Are you going to revise your claim, objections or rebuttals?? How so?
Homework
If, for whatever reason, you have not yet read "Structuring Arguments" READ it. You will not succeed at the blog and the presentation unless you have a thorough understanding of this article.
Review your research: what precisely is it that you want to argue? Continue to work on your claim. Make sure you have a viable, arguable claim ready to go.
Bring a printed outline of your argument to class on Monday. I will give you feedback. Drop dead deadline for this homework assignment is Monday!

BEGIN DRAFTING your argumentative blog post. This will serve as the "backbone" to your argument you present in your

Group Research Presentation.
READ: "The Changing Significance of Food" by Margaret Mead'''


The Abacus (Devin, Jose, Celeste) will lead our discussion on Monday.