The Blog Assignment - Writing in the Real World
This assignment is due Nov. 29th in Blackboard by midnight.
Look under Content>The Rhetorical Situation Project>The Blog Assignment
The Rhetorical Situation Project is comprised of two different assignments, The First Year Symposium Group Presentation and a Blog. For each of these assignments, you will be writing and composing in a unique rhetorical situation. As you recall, a rhetorical situation is a theoretical concept that writers and readers use to understand the dynamic relationship that exists between a writer, his or her writing, and an audience in a particular context.
The Blog assignment presents an interesting rhetorical situation for you because it requires that you publish your work online, on the Web. Subsequently, you will have the opportunity to have your writing go out into the world and make something happen just like the men and women you have been studying in American History!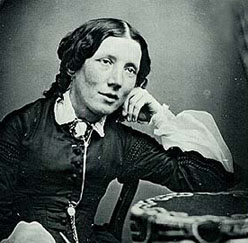 Obviously, the men and women you are studying in history wrote and communicated using the common genres and media platforms of their particular time and context. They composed letters, speeches, laws, advertisements, political cartoons, and many other genres. These documents are the primary sources that you have been working with this semester in Learning Community E.



The primary source document here on the right is a political cartoon from 1856 that depicts the growing sectional divide over the subject of slavery as the U.S. expanded to the West.
If we flash forward to the present day and age, we will find that many of the genres that were in use in America's historical past are still being used to this day. For example, in 2017, we still have political cartoonists, who use writing based on visual images and humor to go out into the world to encourage people to think about current events and issues.
Though we use many of the same genres from the past, there has been a tremendous change in the ways in which writing is produced, distributed, and shared because of technological developments associated with social media platforms.
The Blog Assignment of the Rhetorical Situation Project project provides you with the opportunity to join the contemporary conversations that are happening in the here and now of the real world by using the media platform of a blog to convey your argument and research (from the Research to Learn Project) about your historical topic and its connection to a modern-day concern or issue.
Sending Writing out into the Real World to Make Something Happen with Your Very Own Blog!
Working alone or with your presentation group, you will need to create a Blog with at least one full-length Blog post that presents an argument over your historical topic, its primary source, and the modern-day connection you established. This blog post will be entirely your own work. In order to complete this assignment you will need to conduct some independent research to learn the following:
What are the key features and conventions of Blog posts?
How do blog writers (bloggers) use social media to attract and engage with a particular audience?
How do bloggers use visual rhetoric (pictures) along with alphabetic text (words) to create a particular message with a specific purpose?
How do bloggers use and cite the writing and ideas of others in their blogs?
What design principles work best for a blog? That is, what is the best way to layout and present information in a blog to maximize readability and to maintain reader interest?
Considering your Rhetorical Situation: As you consider your rhetorical situation for your blog, you will need to make many decisions of as a writer:
Purpose for Writing
Audience
Constraints and Deadlines
Purpose for Writing
Writing goes out into the world and makes things happen. What do you want to make happen? Do you want to raise awareness? Criticize? Praise? Inform and educate? Present an alternative perspective or perspective? To connect with your audience, you must present a piece of writing that expresses a distinct purpose! This means, you should take a specific stand. Use the Argumentative Guide to construct your argument.
Audience
Who is your target audience? What do they know about your subject material? How are you going to get them involved in history and current events?
Blog Assignment Specifications: The Constraints and Deadlines
In general, in any given rhetorical situation, a writer must work with a certain set of constraints and deadlines. Here are the ones you will need to work with for this assignment:
Use the blog platform, Wix.

Your blog post must feature 750 to 1000 words of your own writing.
You must cite and refer to the work of other authors, using the conventions of citation that bloggers use (i.e. hyperlinks).
You must include 6 to 8 hyperlinks per blog post.

The blog assignment is due Nov. 29th at midnight.
Style Tips & Blog Etiquette

VISUALS should drive the blog
Make sure your blogs are publication ready. That means you'll need a peer editor to help you ensure there are NO surface errors.
Make sure you stay in the genre of the blog...use first person, and while you must always cite outside sources, and give credit to others for any material you use that's not original, you should avoid academic documentation.
You will also be required to comment on at least three of your classmate's blog entries. You should also respond to comments you receive on your blogs.
Helpful links for understanding the genre and the media platform of the blog:
Common Blog Features from the NCTE
Fabulous History Blog Posts for you to use as examples and mentor texts:
"Were There Blog Enough and Time" by Historian Ralph E. Luker"
"What's Behind Trump's Wall? Or, What We Can Learn from the Know-Nothings" by historian Johann Neem
https://openenglishatslcc.pressbooks.com/chapter/genre-in-the-wild-understanding-genre-within-rhetorical-ecosystems/
This assignment was crafted by Chimene Burnet, M.A. Many thanks!