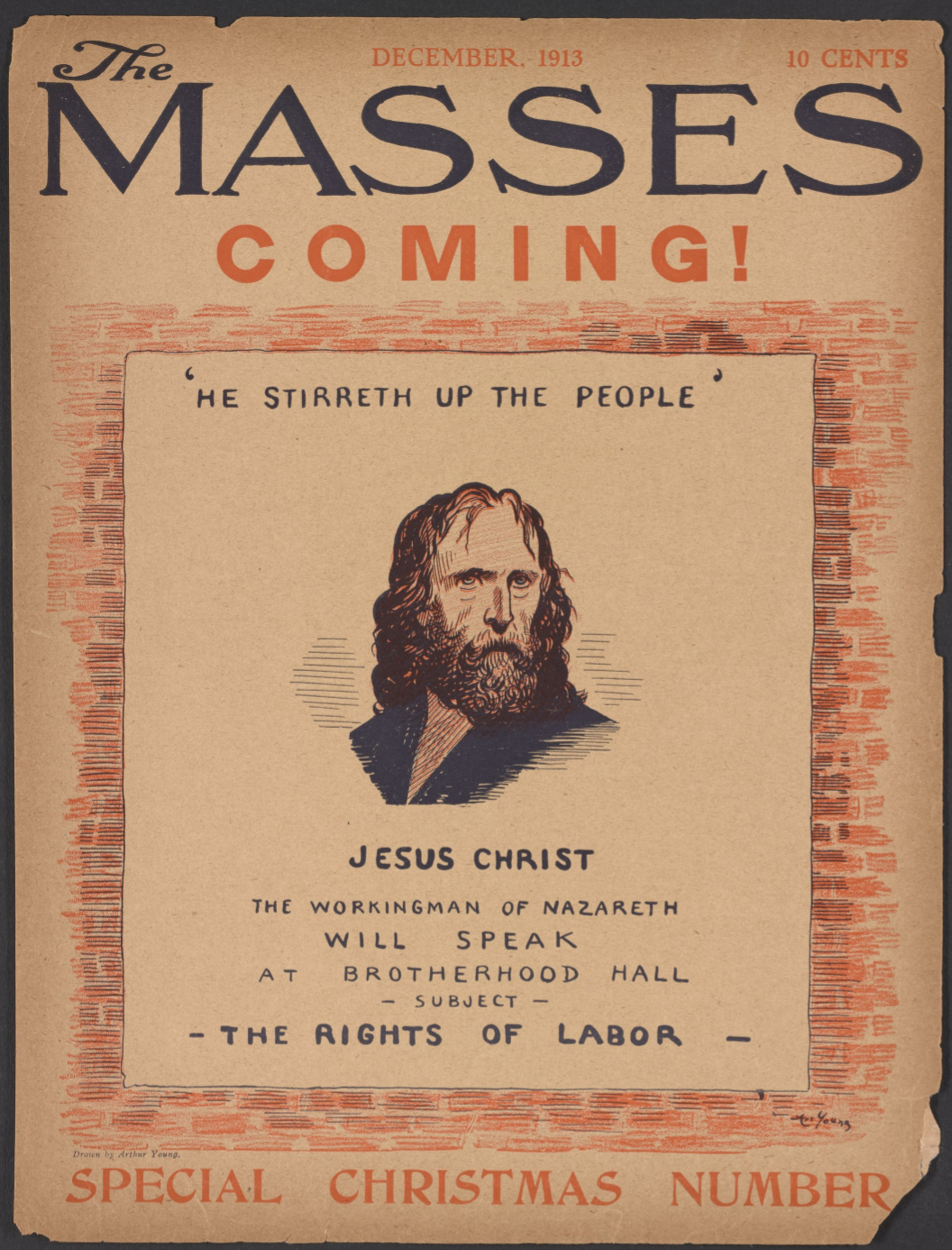 Submission to The Masses
Project Description
For this writing project, you, or you and a group of like minded Greenwich Villagers, will submit a piece for potential publication to Max Eastman's The Masses. According to the Encyclopedia of American Studies:
From month to month, The Masses engaged public policy issues in a manner that was consistently the liveliest, most skillful, and most distinguished to be found in the several hundred other left-leaning periodicals then published in the United States. The magazine featured regular contributions from Eastman, who wrote a column on labor and political events that began each issue...John Sloan, and many others contributed biting illustrations. Occasionally short stories and poems were found in its pages; in addition it published commentaries by vigorous but later forgotten essayists and short book reviews, announcements of events, and wry unsigned comments on the hypocrisy and foolishness of mainstream politicians, businessmen, and tycoons.
Since Max Eastman was so broad minded, you have multiple genres from which to choose: an essay, a short story, a poem, a political cartoon or painting, or even a One-Act play as your submission. Your job is to decide, based on who your character or faction is, what you want to say, and based on who your intended audience is, the best genre in which to communicate this message. Max will have the ultimate say in which contributions are selected for this issue. If you or your group of collaborators' work is chosen to be published, you will earn more points towards the game!
What to Do
Decide what you want to argue (or your message to be), based on your character, and or faction. Your argument/submission must stay true to your assigned role, and must be relevant to Greenwich Villagers in 1913.
Form an alliance of collaborators, if you wish. You may work alone, or you may work collaboratively on a submission. Obviously, the more people who collaborate, the higher the expectations for the published piece will be.
Determine who your intended audience is. Questions to consider: who likely reads The Masses? Keep in mind, people who are not friendly to socialist, left-leaning and bohemian ideas are also readers. Who do you want to reach and why?
Based on your message and your intended audience, choose a genre in which to communicate. Be creative. Max likes people who "think outside the box." However, your decision about genre should be grounded in composition theory. See article 2.2 in Naming What We Know, "Genres are Enacted by Writers and Readers." While you may be very comfortable writing in the style of a "blog post," and may want to adapt some of these features of this genre for your submission, keep in mind, early 20th Century readers would have no idea what "#8hourworkingday" means!
Divvy up the responsibilities for the submission. Who will write what? Who will create illustrations? Who will research?
Arrange for meetings outside of class, either virtually or f2f to get this project completed.
Expectations
Your submission should look and sound like a submission from the actual publication of The Masses. Make sure you carefully review and reflect on the sample publications provided.
Your writing/art work should be publication ready. If you choose to submit art work, it should be comparable to the art in the "real" Masses. Similarly, your writing should be free of grammar and usage errors. Any writing should follow the conventions of the genre you chose.
Practical Stuff
Everyone will submit a digital copy of their submission via Black Board no later than the beginning of Seminar on Thursday, March 8th.
Whoever is playing Max will then have until Tuesday, March 20th to review the submissions, and make his final selections for publication to The Masses.
Based on the submissions, Max will then be responsible for writing an overview of the issue, also due on March 20th.
Eventually, we will collaborate as a class and actually publish this copy of The Masses. Prof. Marquez and I will make a PDF of your section's version of The Masses and make it available to all. So, your writing is going to "go out into the world and make things happen!"
How You'll Be Evaluated
Remember, everything is a "text." All sorts of texts can persuade a particular audience to think, feel, believe, or do something. Your rhetorical choices should be thoughtful and strategic.
Argument: is it clear? Is it relevant? Is it specific?
Content: is it supported with reliable evidence?
Style: is it compelling? Is it rhetorically powerful?
Is your submission publication ready? There should be NO grammar or usage errors. There should be a logical flow to your piece. Artwork should look finished and polished.
Is your submission grounded in historical research? Anything you submit to The Masses should be relevant to an audience living in 1913.
Here's Some Help
READ about Max Eastman's publication, The Masses in Credo Reference. Here's the permalink:
Next, read these sample issues of The Masses:
Use the sample issues as "models" for your own writing or art work. Anime would not be an appropriate art form for The Masses. Similarly, your writing should comply with conventions of your early 20th Century Greenwich Village audience.