Freewrite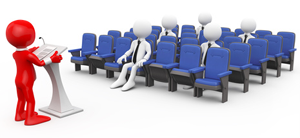 Think about where you are in your Research Process so far.

What do you feel is missing from the conversation?
Where do you imagine your own voice in the conversation so far?
What genre do you think will best help you get your voice across?
Are there distinct opinions about your topic that you've uncovered already?
What exactly is your topic? Have you defined it?
---
Covering Our Bases
Let's double check the kinds of sources you've found and talk about why each is important to your understanding of your topic.

Working in a small team, identify what types of sources you each need in order to round out your research.
Use the next 10-15 minutes to try and find a source for someone else in your team!

Next, I'd like you to do a bit of peer evaluation.

Based on the teammate you just helped, what would you like to know more about from their research?
What questions do you have about their topic that you would like them to be able to answer?
How would you define their topic?
---
Homework
Submit a draft of your Proposal in Blackboard by Wednesday.
Submit the online proposal application for the FYRC by noon on Friday if you'd like to present there!
---