Proposals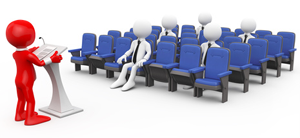 Keep in mind that most of the basic requirements of the FYRC proposal should be included with your blackboard submission, too:
✔ Title
✔ 50-word conference program description of your presentation (abstract)
✔ Proposal (Must include credible references and/or evidence of primary research! References do not count in word count.):
150 words for 15-minute presentations
300 words for 45-minute panels
✔ Names, emails, and cell numbers of all presenters, presentation titles (for proposals involving more than one person), English/Seminar faculty (whoever teaches the class where your project was assigned)
---
---
Homework
Read NWWK Threshold Concept 4 (pgs. 59-70) by next Tuesday.
Submit your proposal on blackboard before the end of the day Wednesday.

If you are submitting a panel (team) proposal, you only need to submit one copy to blackboard.

Submit the online proposal application for the FYRC by noon on Friday, March 24th if you'd like to present there!